Ottimo weekend di gara per il team Xray al GP di Pierrefeu vittorioso sia nella categoria scoppio con Yannick Aigoin che in quella elettrico con Armand  Lantheaume.
Di seguito il report firmato proprio da by Armand Lantheaume.
Excellent weekend for the team in GP of Pierrefeu, for the first edition brushless 1/8 besides 1/8 nitro. The club perfectly welcomed us with a good refreshment room and a beautiful track.
Being unavailable for the practice on Friday, we arrived on Saturdays morning.  I took the second position on the railing at the end of the day. Benjamin Porte on XRAY XB8E took place in 5th position.
During 3 finales I finished on the first place in A1, on the second place in A2 and again on the first place in A3 what allowed me to took the win at this GP 2017!
Benjamin was also on the podium with the very beautiful third place!
Cars were perfect during difficult conditions!
Results 1/8 Nitro Buggy:
Aigoin Yannick – XRAY XB8
Musso Thomas – HotBodies
Lattanzio Julien – XRAY XB8
Meertens Vincent – TLR
Lacheze J.Marc – HotBodies
Maignien Carl – TLR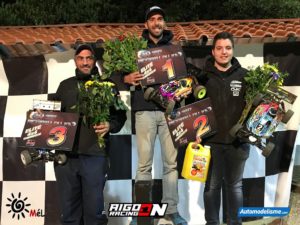 Results 1/8 E-Buggy:
Lantheaume Armand – XRAY XB8E
Maignien Carl – TLR
Porte Benjamin – XRAY XB8E
Labbez Lionel – Mugen
Medjoubi Zakarie – HotBodies
Marchand Léo – Mugen